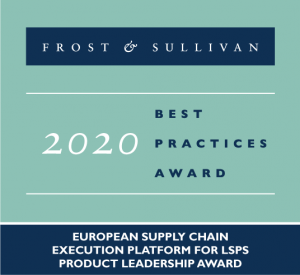 Manchester, UK – 24 September 2020 – BluJay Solutions, a leading provider of supply chain software and services, announced today that the BluJay LSP Platform has received the Frost & Sullivan 2020 Product Leadership Award. BluJay's LSP Platform is a supply chain execution platform purpose-built for logistics service providers managing multiple modes of transport, supply chain partners, and customs regimes via its Transportation, Warehouse, Yard, Customs and Mobility management solutions.
"Logistics service providers (LSPs) operating in complex, international logistics environments seek to manage multiple modes of transport (e.g., ferry, rail, ocean, and air), supply chain partners, and customs regimes all while both striving to meet their customers' ever-more sophisticated requirements and keeping costs low," wrote Sankara Narayanan, Senior Industry Analyst at Frost & Sullivan. "BluJay has reimagined the role of supply chain software solutions and services through a unique combination of data, networks, and applications to empower the world's leading LSPs, as well as manufacturers, distributors, freight forwarders, and retailers with a truly friction-free supply chain workflow.
"The combination of networks and applications results in massive volumes of data that BluJay successfully converts into actionable insights from which its customers can make better, more profitable, and timely decisions," continued Narayanan.
BluJay's LSP Platform is used in over 18 countries at hundreds of locations by some of the world's most well-known names in the European logistics industry, including Mainfreight, Rangel, and as announced last month was selected by Gebrüder Weiss—one of Europe's largest privately held logistics service providers, with 7,300 employees, 150 worldwide locations, and 13.7 million consignments transported annually.
"We welcome and appreciate this analysis and recognition by Frost & Sullivan on the heels of our great 2020 sales momentum in EMEA," said Jan-Paul Boos, Senior Vice President, EMEA for BluJay Solutions. "Our LSP customers benefit from a robust solution proven every day to handle the volume, geographical scale, and complexity of leading companies, providing support and driving long-term value."
According to Frost & Sullivan's research, "the appeal of BluJay's LSP Platform is that it serves and supports different business models from a single window. This is because the platform supports a rich set of functionalities: multi-currency, multi-lingual, multi-network, multi-country, and multi-site for customers running in multiple countries or multiple business units. BluJay's LSP Platform is suitable for individual parcels, groupage, FTL, distribution services, and containers; moreover, it serves domestic, single or multi-modal, and international businesses. As such, each element has a placeholder in the BluJay LSP Platform, and every unique process is supported by it."
Read the complete report here or contact BluJay for more information about LSP Platform.
About BluJay Solutions
BluJay Solutions helps companies around the world achieve excellence in logistics and trade compliance – it's in our DNA. Through a blend of Data, Networks, and Applications, delivered in the BluJay Way, our DNA platform powers the Frictionless Supply Chain for thousands of the world's leading manufacturers, retailers, distributors, freight forwarders, customs brokers, carriers, and logistics service providers. To learn more, visit: www.blujaysolutions.com, or follow us on Twitter @myblujay and LinkedIn.
###